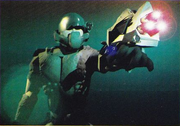 | | | |
| --- | --- | --- |
| " | MISSION - Aeternis penetrated - 12/2/2012 - all systems functional - OBJECTIVE - holy grail | " |
The MS-2 helmet is a high-tech piece of military[1] equipment built around the Stolland Library HUD System that gives the user a hands-free penetrative scanning system backed up with twelve gigabytes of library information.[2]
For a breakdown of messages the MS-2 displays, see HUD messages.
Specifications
[
]
The MS-2 Helmet is a sophisticated piece of military hardware, equipped with a range of multiple technical functions that are superbly suited to the Raptors' profession. It is an expensive and impressive piece of equipment, difficult to obtain but considered now to be standard kit for any serious Raptor. Notably, while it can run into minor bugs due to the young age of the technology, the MS-2 compensates by being completely maintenance free: It automatically boots and installs all necessary software and is fully capable of repairing itself completely when damaged. It is not user-serviceable and requires a qualified service technician to open and maintain, since the large electrical charge within can cause injury or death when tampered with.[3]
The MS-2 hard-shelled helmet only requires cleaning with a damp non-abrasive cloth after use and servicing every 250 hours. As long as these minimal requirements are met, it should last a lifetime according to the manufacturer. Although excessive blows to the outer casing can cause malfunction, the on-board repair systems combined with a hardened titanium casing used for the CPU, additionally housed within a balanced vacuum, ensure longevity of its components.[6]
Head Up Display
[
]
The Model 7 HUD[7] is a standard add-on popular among Raptors, housed on an interchangeable custom circuit board that slots neatly into the MS-2 Helmet (which can only be removed by an authorised service center technician). The HUD unit will automatically perform various environmental scans - all results and data will be displayed on the right hand side of the HUD. The HUD:[8]
Scanning function
[
]
The HUD is supplemented by an array of highly advanced scanning and analysis tools. The scanning suite has a range of 250 meters,[4] more than enough to utilize the following tools:[11]
Weapons
[
]
The MS-2 helmet interfaces directly with any weapon used by the operator, displaying a targeting system on the HUD. The MS-7 Sniper is a popular choice among Raptors, but the MS-2 can interface with any firearm.[10]
References
[
]